randnorm tuesday event in black rock city 2006



Liberation by Self-Love
1:00am-3:00am
We all do it, but are you liberated enough to do it in a group? Come test your boundaries in a group "self love" setting. Gender balanced event, so guys bring a friend. Bouncers on site. The liberation dome is a safe and nonjudgmental free space for respectful expansion of boundaries and self growth.
Hosted by: Terra Nova @ Destiny and 9:00
photo by waldemar horwat
randnorm mind grenade
"Nothing great in the world has ever been accomplished without passion."
- Hebbel
randnorm pikcha
randnorm video
the weight of terje haakonsen's balls pulled him down this first descent. un-fukkin-believable.
normdate 13.2.7
my body hurts, but its a good kind of hurt. spending a day shredding sunshine village with a krew of aggressive snowboarders can do that to ya.
i met up with 7 other
source
employed snow addiktz on monday morning at our 17th avenue shop. we piled into the source limousine and began our journey to the rocky mountains, destination
sunshine village resort
.
the electrical system in the limo was still hosed, so the stereo wasn't working, the dvd player and flatscreens weren't working, and neither was the heat *brrrrr* good thing i had on all of my snowboarding gear to keep me somewhat warm on the drive up. driving in a limo is fabulous, driving in a limo without heat in winter is ghetto fabulous.
this was my first time at sunshine village, and i was excited to ride another rocky mountain resort. i was even more excited to test out next year's
burton
line of snowboards and bindings. lift ticket paid for, a 90min ride up to the mountain in a limo, and dealer demo for the number one snowboard manufacturer in the world...i love my job :)
sunshine village is not a small resort...its actually three mountains!
goats eye mountain
lookout mountain
mt.standish
there is so much terrain to explore at sunshine that one day is not nearly enough to fully enjoy this massive resort. the resort should also have been called overcast village, because there was no sunshine there at all, and i've been told there rarely is.
regardless, i was stoked to finally ride this world class resort. i was even more stoked to ride with a krew of very talented and passionate snowboarders.
we arrived at the village lodge and entered a room full of next year's burton gear. it was a beautiful sight. so many boards to choose from, so many bindings to mount on them, and tables set up for us to set up the rig of our choice....and all of it would not be available to the regualr consumer until next winter. did i mention how much of a beautiful thing it was?
burton vapour 159
t6 159 and custom x wide 164
the t6 has an aluminum honeycomb core that burton bought from nasa. its ridiculously light and strong, and you can see right through the topsheet and base. sexxxy.
owen about to test drive the t6
burton air, troop, and feelgood
the first board on my plate for the day was the 08 burton custom x wide 164 with this year's custom brew bindings.
we took the chair up mt.standish and rode down big bunkers, an awesome run full of small hits and beautiful snow. it was wikkid riding with a krew of aggressive riders, awesome riding a new mountain, and rad ripping next year's gear.
the custom x wide is a whole lotta board...stiff, lightning fast, and aggressive. its perfekt for us big foot snow addikts who like to ride everything, hard!!! not for the faint of heart, and definitely not for a beginner snowboarder. it didn't take me long to understand why the custom x is burton's do everything cadillac.
the
custom brew bindings
were nothing special. for the price of the custom brews, you're better off with the
burton mission bindings
. not even the bottle opener on the highback of the custom brews made these bindings any good. too basic of a binding for my riding style the custom brews were. even with less than satisfying bindings, i enoyed riding the custom x. i can only imagine how siiick of a board the custom x would have been with a better pair of bindings on em.
three runs later, it was time to demo another board. up next was the '08 malolo 162 with this year's
p1 bindings
.
i decided to rock a pure alpine stance, which was perfekt for the malolo
with the way this board rides, it was easy to forget that its tapered design is made specifically to shred deep powder. soft flex in the nose and a stiff tail makes this board float in pow and carve up the piste. this board can ride it all. i was most impressed with its versatility. its more than just a powder stick, its an all mountain dream of a board. no wonder the burton rep told me that i'd not want to ride anything else after riding the malalo. it was hella fun to rip on.
the
p1
'z were very comfy on my feet thanks to the generous amount of gel in the heel strap and under my foot in the baseplate...almost too comfy. combined with a soft highback, i didn't get the response from these bindings that i had hoped for. at times, it felt like my heel was lifting up in the binding, regardless of how tight i had them. if you're looking for comfort, these bindings feel like a leather sofa on your feet. if you're looking for response, try the
co2
.
sunshine, or should i say overcast village, has some fun terrain to ride.
however, there are quite a few flats to ride across that require snowboarders to unbuckle and skate *booo*
the third board on my plate was the '08 t6 159. i was stoked to ride this space age piece of technology. i kept the p1 bindings on em.
burton women's stria, t6, and this year's fish
jeremy jones with the new est binding
burton custom with the new p1 speed zone binding
p1 speed zone bindings
holy shit, the t6 means fukkin business. super light, super fast, and more pop and flex than the previous versions of this model. my friend alex rides a t6 and it was way more of a freeride board than the '08 model. the new t6 can now do it all, from piste to park, and it is happiest doing it at high speds. this board does not joke around...if you're not an advanced rider, it will ride you.
lucky for me, i was riding with some hardcore snowboarders. we cruised through some trees and i found myself at the top of a chute that actually overwhelmed me with fear.
riding with a krew that pushes me beyond what i thought i could do was amazing.
time for another board.
i was hyped to ride the burton vapour 161 with the new burton triad bindings. the vapour is the most expensive board that burton makes, retail price $1249!!!
the burton twin on the left, vapour on the right
the vapor is burton's do anything ferrari. it is so fukkin tech that when you get stuck in the flats a little man comes out of the trees to push you...and sunshine has a good amount of flats. the new carbon vapour skin makes the vapour wikkid light, the lightest board you can buy according to burton. its stiff enough to eliminate chatter at high speeds, but soft enough to absorb transitions on jumps. like a hattori hanzo sword in the bride's hand, this board slices through anything with ease. for the aggressive snowboarding samurai (with phat pockets) who needs one blade to do it all, the vapour is the wise choice.
the triad binding is incredible. it combines the cartel heelstrap with the mission baseplate and the co2 highback, creating a comfortable and responsive ride. where the p1z fell short, the triad delivers. these bindings are the fukkin tits!
we rode through the sunshine park which was half dece.
burton wmns stria, dominant slick, and burton fish
i saved the best board for last: the uninc coalition line from burton.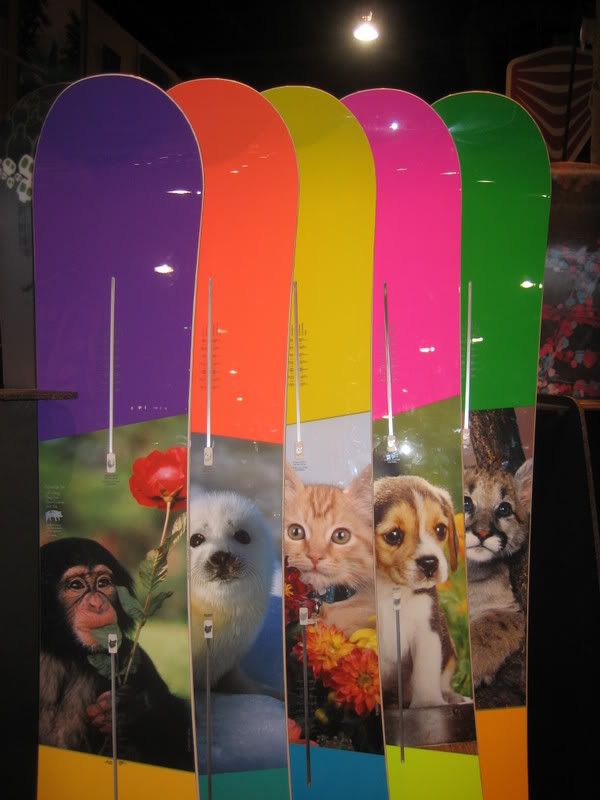 the uninc line eatures the new burton single slider technology for attaching the bindings to the board. they work with the new est bindings (extra sensory technology), and use only two screws on the outside of the binding to attach to the board.
taking cues from the old baseless binding craze (thank god it only lasted a year), instead of just having your foot right on your board, which proved to give way too much board feel, burton has placed a cushioned removable eva platform under your foot to absorb impact and vibrations. it also allows for a more true board flex and no dead space. the single slider gives you unlimited board stances and maximum adjustability. the best part is that it also lets you adjust your stance even with your foot still in the binding! genius!
jump on your board, loosen the screws, stand where you're comfortable and tighten them up where you're actually standing! burton innovated with the toe cap, and they're doin it again with the est binding. dope shit!
i rode the uninc 160 with the est bindings. putting the bindings on have never been easier or faster. this setup was deadly as fuck!
this board and binding combo was so sick, i actually puked a little in my mouth while i was riding it. so buttery smooth in the nose and tail makes this board a park addikt's best friend...and the cute baby animal topsheet is sure to get you laid. it worked for me!
the single slider and the est binding system is next shit. the eva foam on the footbed made for a cushy ride and just the perfekt amount of board feel. i could actually feel the board flexing under my feet. the joys of true flex *sigh*
hands down the best board and binding combination of the day. did i mention that it got me laid?
a fukkin killer day at overcast village
snowboarding...fuck yeah! i am so addikted to riding, and it was good to ride with other snowboard addiktz.
i look forward to coming back to sunshine and exploring the rest of this huge resort. maybe there'll actually be sunshine.
the drive back to town in the unheated limo was made better with a good supply of heinekens. nothing like kickin back after a long day of shredding with a cold beer. a spliff would've made it even better ;)
~*...normaste...*~