randnorm thursday event in black rock city 2007



lightsaber battle of certainty
7:30am - 11:30am
A battle like no other ever produced. 10,000 toy light sabers will be given away at ten locations surrounding the man at dusk. Pick up your weapon of peace and join us for a dance of certainty!
The swords will be available at dusk at each of the ten triangular pylons, between the esplanade and the man.
hosted by wattos junk yard
photo by
nokturnal
randnorm mind grenade
all religions, arts and sciences are branches of the same tree.
- albert einstein
randnorm pikcha
randnorm video
perhaps the funniest bail ever caught on camera...okay, funniest one of me caught on camera ;) i am attempting to master the flail arm jutsu technique.
normdate 28.2.8
holy shit, a blog entry! bet you never thought you'd see that again, eh? no, facebook hasn't completely squeezed the last breath out of my blog!
yeah, life here in the cspot is busy and amazing. i started the year off with a promotion to manager of the online store for the source and i've been shredding the shit out of snow. this town is a whole lot of alright. i've also been blessed to have friends from home come visit me and ride the rockies with me. its so good to see people i've known for years, even better to share with them my passion for snowboarding and my home mountains.
elsbeth and regan are in town from yellowknife for a wedding. they brought with them their new bundle of joy, 9week old lief isaac edward fielding. he is precious.
regan's brother, jim, is also in town for the wedding with his wife and their son wyatt. new life...hooray!
on monday, regan, dave and i made the journey to sunshine village to enjoy a day of shredding snow. it had not snowed in the rockies in over a week, so we were expecting hard pack. the unexpected surprise was the blue bird skies.
*sigh* the rockies are majestic and beautiful. i sound like a broken record repeating my sentiments about these ancient and wise mountains, but that's cause they fukkin rool!
regan became a new daddy just over two months ago. dave became a daddy for the second time less than two months ago. for both of them, it has been baby baby baby for the last few months. it was good to have them both out enjoying themselves without having to think about their kids for a day (thanks to sam and elsbeth...we love you girls!)
you many notice the radtastik quality of the pix i'm including in this blog. this is because of my new toy, a canon eos 30d digital slr camera. work bought it so that i could take pikchaz of our team riders and product shots. now i have a real camera to capture and shape the world around me. watch out!
sunshine village was actually sunny and warm. this is an anomaly. there's a reason why this resort is nicknamed overcast village...but not on monday!
it was also the annual burton demo day at sunshine, an opportunity for shops to come out and ride next year's burton lineup. sunshine at sunshine village, new boards to demo, and good friends to shred with. things were shaping up to be one of those memorable mondays.
riding the sunshine ganjala
sunshine at sunshine village...who'd a thunk?
it turns out that regan went to high school with the burton rep, aaron corrigan. watching aaron's reaction when i arrived with regan was great.
it was then that aaron realized that he had met me before at regan's bachelor party in huntsville. he was supposed to make it to regan and elsbeth's wedding, but could only come to the bachelor party weekend. every day my world becomes smaller and more intimate.
now time to talk gear. there are many reasons why burton is no.1 in the snowboard industry. first off, burton is rider owned. there is no better way to understand a sport than to be passionate about it, and jake burton is a legend in snowboarding. most importantly, burton makes killer gear. their boards are deadly as fuck, and i was beyond excited to put a new rig together and give 'er a rip.
the '09 burton cast of boards...ghetto stitched for your viewing pleasure.
walking into a room full of boards to demo is such a rad feeling. so much opportunity, so many boards, so little time. its even better when you're about to get gnarly on boards that aren't even in the store yet. dope shit, son!
burton love and the burton fix. dude, the love has naked chixxx on it. how can you not get stoked riding it?
the women's lineup.
burton se7en and the burton un inc line
burton custom and burton custom x
we had a good krew reppin' the source at the demo. just grab a stick, pick some bindings, put 'er together, take her for a rip. *sigh*
i decided to start my morning off with perhaps the deadliest set up ever...a burton custom x 164w with co2 est bindings. the board was black with red x's on it, and the bindings were black with yellow and green x's on 'em. pure rasta steez. as if this set up was not made for me.
i think i might have screwed myself over with my first demo choice because once you've ridden a custom x everything else pales in comparison. its like going to the bmw dealership and test driving an m series first. sure, the other bmw's are deadly shit, but after driving the m, it just doesn't make sense to drive anything else.
the custom x is the pimp daddy of the burton lineup. it does everything you can throw at it, and it does it with such style and precision you won't want to ride anything else. it devours the groomers at high speeds with zero chatter, and it annihilates booters of all shapes and sizes. there is nothing this board can't do.
not too often has the snowboarding industry seen an innovation in board design that has significantly improved the way a board rides. the infinite channel system is one of those leaps forward in board design. mounting your bindings is so easy with an ics board and a pair of est bindings. tighten two screws and you're ready to go. plus you can tighten your bindings with your foot still buckled in. center your stance and duck it for a gnarly park session with your bros, then quickly set your stance back for that unexpected powder rip through the trees. the possibilities are endless.
if you can only have one stick in your quiver to rip everything from big mountain to big booters, the custom x is your best choice.
just when you thought the co2 bindings could not get better, burton introduces the co2 est binding. combined with a burton ics board, the co2 est bindings give you infinite stance options that you can adjust on the fly without ever having to unbuckle your boot. deadly shit! these bindings were ridiculously responsive both on the hard packed groomers and in the park. as you think it, these bindings respond, which made me much more confident going mach 10 down the piste.
with the mounting screws on the outside of the binding, the est bindings have eliminated the need for a baseplate and instead replaced it with layers of eva foam to absorb vibrations. the eva foam is now covered in a thin, durable but still flexible plastic so that it doesn't get hacked up and worn out. finally, burton has perfected the baseless binding resulting in a board that has a true flex without any deadspots. your board rides and feels the way it should. riding regular baseplate bindings after riding a pair of est bindings no longer makes sense to me, especially when they respond like the co2.
the cored out burton ultra cap straps on the co2 worked well with my non burton boots, eliminating the need for the burton grip fit. the result is a lighter more flexible toe cap that grabs your toe better than before.
these bindings are hands down the best pair of bindings i have ever had the pleasure of riding.
did i mention it was sunny at sunshine village?
the next board i rode was a jussi oksanen 159 with a pair of triad bindings.
burton operator, jussi oksanen pro, and jeremy jones pro model.
we decided to give goat's eye a rip. fyi, when riding the rockies expect rocks.
safety meeting
if you've seen jussi ride, you know that he shreds everything with unmatched speed and style. so it makes sense that his pro model was designed to annihilate everything from the backcountry to the park. this stick butters beautifully in the park and has so much pop you can actually jump as high as jussi. i sure did. why you gotta look at me like i'm lying?
what impressed me the most about the jussi pro model was how solid this board was at high speeds on the groomers. i made the assumption that the jussi was designed for annihilating everything in a park, which it does, but it also holds a solid edge at high speeds with almost no chatter. for the park jib rat who also likes to rip the big mountain, the jussi delivers.
at first glance, the burton triad bindings look like they mean business. once you buckle in, you realize that these bindings ain't jokin' around...the triads are deadly as fuck and ready to rip the shit out of anything. the ample amount of gel in the heel strap makes the triad feel like your riding with leather sofas on your feet, but don't let the comfort level fool you. the triad is a very responsive binding thanks to a contoured gel infused toe cap and a highback it borrowed from its older brother, the co2. if you want a binding that kills it in everywhere and makes love to your feet, look no further than the triad.
t6, operator, x8
the next stick i ripped was a burton operator 160. new for next season, the operator is a fun directional sidecut board that rides smooth and fast on the hard pack. its mellow enough for a beginner rider to feel comfortable pushing their limits, and stiff enough for an advanced rider to rip the shit out of the piste at high speeds. if you've ridden a burton air, you will love the operator. lively and predictable, the operator is a perfect combination of versatility and fun.
i was kind of ridiculously stoked to ride my next board, the burton love.
i chose the 159 with the tennis hoochie and tossed a pair of p1 speed zone bindings on 'er.
it was time to give the sunshine park a rip with my homies from work.
steve nachti stylin' a pair of iridium oakley frogskins. old skewl, son!
source boyz dunnie, sanny, and nachti
nachti, dunnie, and sanny rippin' the synchro tail blockz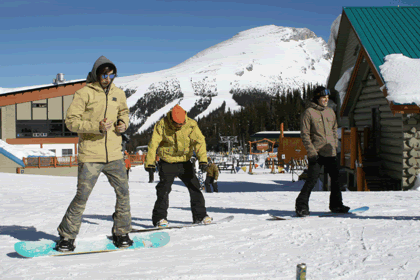 the guys i work with are not only passionate about snowboarding, they are actually really fukkin good at snowboarding. i was stoked to ride with them.
evan buckling into the fix, burton's zero camber park board. we called it burtonana technology because its burton's answer to the popular banana lib tech.
this year, the resorts of the canadian rockies decided to eliminate all man made jumps at their resorts for the safety of their clients. NO JUMPS! at first i thought it was ridiculous. why not do what other resorts do and have people sign away any liability before using the park? then i realized it was simply a money making decision. no jumps means that the resort does not have to build or maintain jumps. that means more money in their pockets. in the end, there is only a small percent of snowboarders who actually ride the big jumps who this decision affected. good thing for me, i was riding with some of those snowboarders at sunshine, which did have big jumps.
sanny gettin' big on a love
nachti rippin' an indy tuck knee on a burton deuce
big jumps at sunshine in the sunshine
nachti 5-0 on the box
brett 'sanny' sandford dialing a backside cab 540
dunnie doing his rendition of the back cab 4
you're probably wondering how the love rides. dude, there is a half naked chick on this board! i could go on about the buttery edges, its smooth and creamy carves, and how it takes trannies better than an old white guy in bangkok, but i'd just be telling you things you already know and expect from a love. shit, you could ollie the moon on this thing! and just when you thought the love could not take your park game any higher, burton goes and puts an 80s playboy centerfold on it! seriously dood, how can you not get stoked to ride a board with a naked chick on it? did i mention that her ass is on the base? the love is guaranteed to fill your park and big mountain adventures with more spunk and make uptight moms snarl with disgust. sounds like a perfekt combination to me.
lunch. time to play with the settings on my new camera.
the problem with pulling my dreads through my helmet vents is that i have to keep my helmet on until the end of the day. it takes a good 15mins to get my hair through the vents.
my last board for the day was the burton vapor ics with a pair of burton cartel est bindings.
we had enough time left in the day to do one more park run.
sanny tweakin' out a rocket air in the sunshine
the burton vapor is a fast, electric carving knife with more tech than any other board on earth. the vaporskin carbon topsheet has significantly dropped the weight of this board while adding insane pop. lighter is faster, and this board hauls ass. combined with the ridiculously fast sintered wfo base, the vapor allows you to ride any terrain with more speed and control than you ever thought possible. absolutely zero chatter at high speeds, but don't let how stiff it is stop you from stompin' ruts, rollers, and booters. the vapor is smooth on take offs and landings, and can handle everything you can throw at it with panache. it is the ferrari of the snowboards. if you can afford a ferrari, why wouldn't you buy one?
you're probably wondering how burton made their signature all mountain cadillac of bindings even better. simple, add extra sensory technology to it and combine it with an infinite channel system snowboard. the cartel highback you know and love is now lighter, stronger, and more responsive. plus you can jack your forward lean more than any other bindings out there.
the cored out ultra cap strap, introduced last year on the burton doom ltd bindings, now grace the cartels. light and flexible, the ultra toe cap did not slip at all and connected my feet to my board better than any other toe cap i have tried. less is more.
if you're looking for a pair of bindings that can help you dominate everything from big mountain to the park and reach the level of master freestyle jedi, the force is strong with the cartel est.
girls who ride are hawt.
we rounded up our krew for the 20minute ride out and said goodbye to sunshine.
our ride out krew
regan and aaron
dave likes treating the ski out like a race, so he was already waiting in the truck for us.
come to think of it, skiers seem to spend lots of time waiting for snowboarders.
what an amazing day at sunshine. i love the rockies. i love my friends. i love my job. there is so much in my life that i am thankful for.
snow. fuck yeah!
~*...normaste...*~